REM to PX Converter
REM to PX Converter is a free online tool you can use to easily convert rem (root em) to px (pixel). Keep in mind that 1rem is equal to the root font-size, in other words, the font-size on <html> element.
How to Use REM to PX Converter
Step 1: Enter your base (root) font-size.
Step 2: Input the rem (root em) value you want to convert to pixels (px).
Step 3: Press enter key or click the convert button to get it's px equivalent.
Video Tutorial: Convert rem to px
REM to PX Conversion Table
| EM | PX |
| --- | --- |
| 0.0625rem | 1px |
| 0.125rem | 2px |
| 0.25rem | 4px |
| 0.5rem | 8px |
| 1rem | 16px |
| 2rem | 32px |
| 4rem | 64px |
| 12.5rem | 200px |
| 15.625rem | 250px |
| 18.75em | 300px |
| 20rem | 320px |
| 25rem | 400px |
| 30rem | 480px |
| 35.5rem | 568px |
| 37.5rem | 600px |
| 48rem | 768px |
| 50rem | 800px |
| 64rem | 1024px |
| 75rem | 1200px |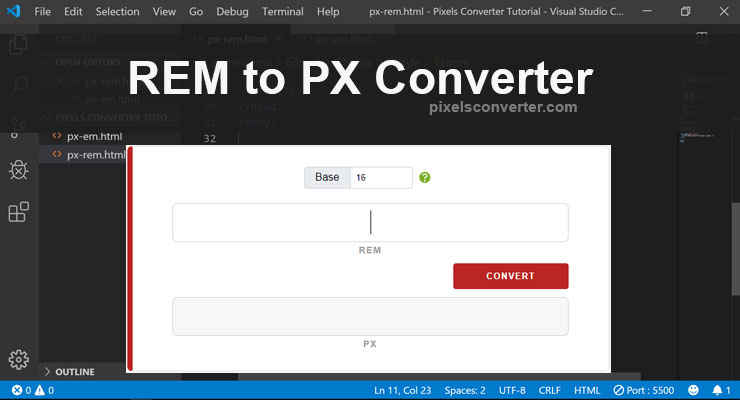 How to Convert REM to PX
So given that the value of rem is relative on the root font-size. This means that if you assign 16px font-size on <html> on your css, like this one:

html { font-size: 16px }

This means that 1rem = 16px.

REM to PX Formula:

px = rem * root font-size